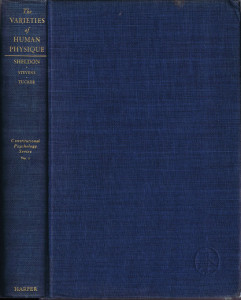 Subtitle: An Introduction To Constitutional Psychology
Author:
 W. H. Sheldon, Ph.D, M.D.
Edition 
Cited in The Compleat Witch
Publisher: Harper & Brothers
Pages: 347
Binding: Hardback
Size: 6.5″ x 9.5″
Table of Contents
(From Cited Edition; Condensed)
I. INTRODUCTION AND SUMMARY… 1
II.  THE MAIN HISTORICAL THREAD… 10
III.  DEVELOPMENT OF THE TECHNIQUE OF SOMATOTYPING… 29
IV.  HOW TO PROCEED IN SOMATOTYPING… 80
V.  SOME THEORETICAL CONSIDERATIONS… 108
VI.  DESCRIPTION OF THE SOMATOTYPES… 141
VII.  TOWARD A CONSTITUTIONAL PSYCHOLOGY… 216
APPENDIX 1. TABLES FOR SOMATOTYPING… 265
APPENDIX 2. NINE SOMATOTYPES OF WOMEN… 290
INDEX… 319
Title: (if different)
Subtitle: (if different)
Publisher: Harper & Brothers Publishers; New York
Pages: 347
Binding: Hardback
Size: 6.5″ x 9.5″
"THE SEVENS IN ECTOMORPHY
             127
117
            217
THE 117
This is the most extreme of the microsplanchnic physiques.  The trunk is excessively flat, and is relatively narrow and relatively short.  In the first region (head), we find a small, hypoplastic face, fragile features, and the moderately long, extremely slender neck.  Both face and cranium are of variable shape in the 117.  The cranium is occasionally of fairly large size, but the face is always small.  The nose is usually both slender and short.  The jaw is weak and receding.  The upper trunk usually shows a sharp, high kyphotic curving of the vertebral column, with flat upper chest and marked lack of anteroposterior depth…"
Due t
o the obscurity of some titles, the contents of The Compleat Witch Illustrated Bibliography Project may contain information that is inaccurate or incomplete. We encourage readers to submit corrections and pertinent addenda like images, quotes, or other information, either as a Comment on the appropriate post or via The Compleat Witch Illustrated Bibliography Facebook page.